I can't believe its summer yet and school will be over in 2 days!
That mean its no more vacation for me... lol
Wanted to share with you what I done yesterday: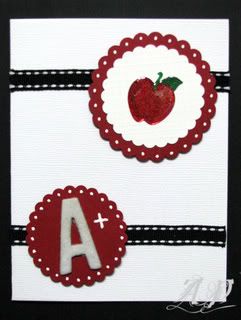 I made this little apple greeting card for my daughter's teacher.
I used cardstock, ribbon and sticker (the apple) but also "Crushed Velvet Flock" by Doodlebug on the chipboard letter. I think I should have paint it white first because it seems a little bite grey instead of white...
So... 2 more days and go! in the pool!
If only it can be sunny and warmer....